Alpha Electric has longstanding relationships with both local and nationwide electrical suppliers.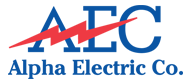 Alpha Electric has longstanding relationships with both local and nationwide electrical suppliers. These relationships are based on reliability. Alpha Electric relies on its partners to supply it with quality supplies and services, which we then supply to our customers.
Understanding that good quality on their part reflects highly on Alpha Electric, we have strict standards in place for all our vendors. Our selection process helps Alpha to ensure the goods and services we use meet our customers' expectations. Our relationships with our vendor's rely on the quality of their material or service, as well as the assurance that the product is available when we need it.
Trade Vendors
A partner for life that helped to stared all
Wholesale Electric is a distributor of products serving the chemical, petrochemical, refining, commercial, OEM and utility industries. Wholesale Electric played a big role in the start of Alpha Electric in 1994.
What is making a difference is a long standing business resource
Consolidated Electrical Distributors, Inc. (CED) is an electrical distributor with a longstanding relationship with Alpha Electric Company.  (CED) has a coast-to-coast network of sales and distribution warehouses with more than 600 locations to serve you. The Northwest Division covers three states and has over thirty locations offering personalized service.
CED is continually adding new product lines to meet the ever-changing needs of its contractor, industrial and commercial customers.
Nothing short of one of the best distributors in the business
Alpha Electric long lasting partner with an outstanding reputation that has been in business for over 10 decades. FireTron Inc. is a fully staffed, operational life safety company with over 100 years of combined experience in the Houston and Austin, TX areas. Our experts are knowledgeable and trained in servicing and installing the latest technologies in fire detection, fire suppression, security systems, telecommunication systems and more!