Manufacturing Electric Contracting Services
Alpha Electric has experience in assisting many local manufacturing companies with their electrical needs. We have service technicians available 24 hours a day, 7 days a week, to perform any emergency repairs your equipment requires. Understanding that reliability is important, Alpha Electric offers quality workmanship to keep machines and equipment performing at satisfactory levels.
We can provide various types of bids for your new construction or remodel project, such as lump sum bids, performing the work on a time and material basis, or on a time and material not-to-exceed basis.
Our project managers and general foremen are experienced in safely facilitating electrical projects. This helps to ensure the company's power stays intact, as well as secure the safety of our electricians. Some of the services we offer to manufacturers are: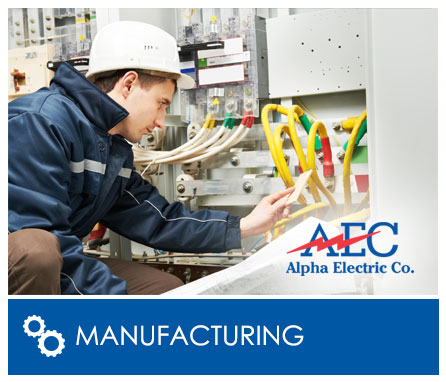 New Service
Automatic Conveyor Systems
Calculate the Size the New Service Should be for your Equipment List
Calculate the Size of the Electrical Feeders for Each Machine
Interconnect Control
Check existing Service to insure it will accommodate added load
Power factor corrections
Surge Protectors
Turn Key Jobs  / New, Repair or Expansion (Electric)
MATV Systems  / New, Repair or Expansion (Electric)
Surge Protectors  / New, Repair or Expansion (Electric)
Normal Power  / New, Repair or Expansion (Electric)
Up to Code Updates  / New, Repair or Expansion (Electric)
Expansions  / New, Repair or Expansion (Electric)
New Construction  / New, Repair or Expansion (Electric)
Repairs  / New, Repair or Expansion (Electric)
Maintenance  / New, Repair or Expansion (Electric)